皮肤科、性病和变态反应科 (

26111

)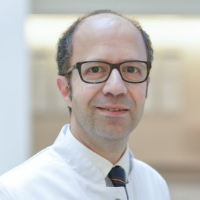 教授
Torsten Zuberbier
科室介绍
柏林夏里特医学院附属医院的皮肤科、性病和过敏科主要治疗皮肤疾病以及过敏性疾病,它们的主任医师为Torsten Zuberbier荣誉博士 。该科室位于夏里特中心院区,拥有高度专业的医护团队,诊断并治疗所有皮肤疾病以及过敏性疾病。
临 床实践中,本科室的重点是是皮肤肿瘤,既包括手术治疗,也包括非手术治疗。慢性炎症性皮肤病,皮肤器官的遗传和感染性疾病以及许多其他罕见疾病都可以在此得 到治疗。它们分别是:皮肤美容,反常性痤疮,过敏症,男科,自身免疫性疾病,皮肤外科手术,皮肤肿瘤,小儿皮肤科,毛发疾病,疤痕,牛皮癣和伤口治疗。
医生简历
Prof. Dr. med. Kamran Ghoreschi studied medicine at Ludwig Maximilian University of Munich, where in 2001 he received his doctoral degree. In 2006, he had his specialization in Dermatology and Venereology. In 2008, he received additional qualification in Allergology. In the same year, the doctor received a scholarship for the training of postdoctoral students.
In 2013, Ghoreschi was the European Rapporteur on the subject "International Dermatology Research" at the Rising Star Conference. In addition, in 2014 he received Paul Langerhans Award of the Society for Dermatological Research. Since 2014, Prof. Ghoreschi has worked as the Leading Senior Physician in the Department of Dermatology at the University Hospital Tuebingen. In 2017, he was appointed as Professor of Dermatology, Allergology and Immunology at the Faculty of Medicine at the Eberhard Karls University of Tuebingen. In 2018, Kamran Ghoreschi was appointed as the Chief Physician of the Department of Adult and Pediatric Dermatology, Venereology and Allergology at the Charite University Hospital Berlin.
皮肤科、性病和变态反应科.
柏林夏里特医院:

Request more information now.
We will be happy to answer all your questions.
---
Certificates