血液病科、肿瘤科、免疫性疾病科、保守治疗科与传染及热带疾病治疗中心 (

283

)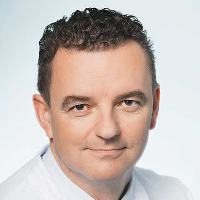 教授
Clemens Wendtner
科室介绍
施瓦宾医院的血液科,肿瘤科,免疫科,姑息医学中心,感染科和热带病研究所治疗良性血液病,免疫系统紊乱,凝血功能异常,血癌以及大多数的肿瘤病。该科采用最新的抗癌药物和治疗方针,例如:高剂量化疗联合自体或异体干细胞移植。
医生简历
1987 – 1993 Medical studies at the University of Muenster
1993 – 1995 Postdoctoral fellow at the Max Planck Institute of Biochemistry in Martinsried and at the National Institutes of Health (NIH) in Bethesda, USA.
1996 – 1999 Clinical activities at the University of Munich
1999 Licensure as a medical specialist in Internal Medicine in Germany and the USA
2000 Board certification in Hematology and Oncology.
2002 Habilitation at the University of Munich
2004 Professorship in Internal Medicine, Hematology and Medical Oncology at the University of Cologne.
At present, Chief Physician of the Department of Hematology, Oncology, Immunology, Palliative Medicine, Infectiology and Tropical Medicine at the Academic Hospital Schwabing Munich, a teaching hospital of the University of Munich.
Memberships and Awards (selected)
American Society of Clinical Oncology (ASCO
German CLL Study Group (DCLLSG) (founding member, member of the strategy commission, secretary)
血液病科、肿瘤科、免疫性疾病科、保守治疗科与传染及热带疾病治疗中心.
Schwabing 市立医院:
Request more information now.
We will be happy to answer all your questions.
---
---
Certificates