内科一诊区(心脏科) (

113761

)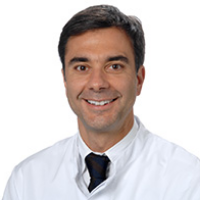 教授
Steffen Massberg
科室介绍
内科一诊区在主任医师Steffen Massberg 教授的指导下提供所有心脏病和内科疾病的诊断服务及治疗方针。
该科的重点治疗如下:
心脏起搏器植入术
除纤颤器植入术
缺血性心脏病的诊断和治疗
肺源性心脏病和肺循环疾病的诊断和治疗
其他心脏病的诊断和治疗
动脉,小动脉,毛细管疾病的诊断和治疗
高血压的诊断和治疗
呼吸道和肺部疾病的诊断和治疗
胸膜疾病的诊断和治疗
移植前后的护理,特别是心脏移植
败血症/脓毒症的治疗
自身免疫性疾病的诊断和治疗
心律失常的诊断和治疗
凝血功能障碍的诊断和治疗
电生理检查
医生简历
On October 1, 2012, Prof. Dr. med. Steffen Massberg hold the position in the Chair of Cardiology and was appointed Head of the Department of Cardiology at the University Hospital of the Ludwig Maximilian University of Munich.
Dr. Massberg received a medical degree and defended his doctoral thesis at the Ludwig Maximilian University of Munich. Also, since 1997 till 1999, he worked here as a Research Assistant. Since 2005 till 2007, he worked at the Harvard Medical School in Boston as a Scholar of the Heisenberg Foundation of the German Research Foundation. The main focus of the doctor's clinical interest is Interventional Cardiology, in particular, treatment of coronary heart disease and heart valve diseases with the help of catheter techniques. His main focuses include the development of new antithrombotic agents and new stents for the treatment of coronary artery stenosis, as well as new strategies for the treatment of heart valve disease. The specialist is the Coordinator of the European project (PRESTIGE), a Board Member and Founder of the Munich Heart Alliance, as well as a member of reputable professional societies and a winner of significant scientific awards.
内科一诊区(心脏科).
慕尼黑大学附属医院:

Request more information now.
We will be happy to answer all your questions.
---
Certificates